Function and Durability
Klinger Quantum is a new type of gasket which was developed for use at higher temperature than all other compressed fibre materials. Klinger have developed a unique manufacturing procedure which enables the production of sealing material using Hydrogenated Nitrile Butadiene Rubber (HNBR), which brings exceptional chemical resistance and greatly improved temperature resistance.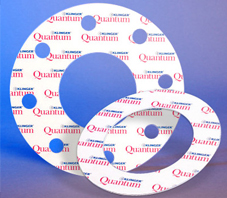 Uses
Suitable for use in oils, water, steam, gases, salt solutions, fuels, alcohols, weak organic and inorganic acids, hydrocarbons, lubricants and refrigerants and in food applications* such as in direct contact with aqueous or fatty acids and alcoholic foods during processing, production, packing, storage, transportation, and preparation at temperatures up to 500°F (260°C).
*(for FDA requirements, material will be supplied unbranded)
Please use the buttons below to view the Klinger brochure and data sheets.